All change and how to schedule a third party post on Facebook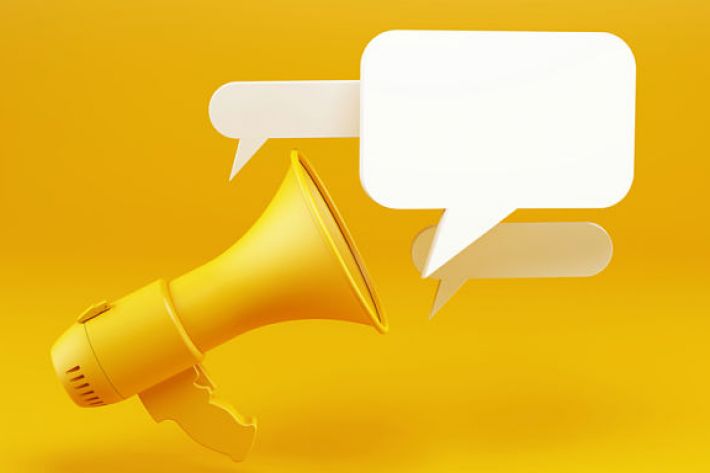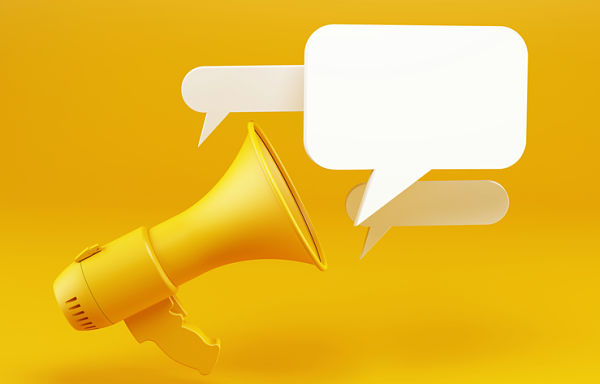 2018-08-221

on

Thu 9

Aug
I'm going to come straight out and say it.  I LOVE the Buffer scheduler.  I have used it since I lost the will to learn about more complicated schedulers on top of learning about social media itself.  So I guess that means I have now used it for 7 years.
It allows you to simply manage all your profiles, it has a clever little browser widget which allows you to share the link and headline of any article you wish to share without typing a thing.  It has more clever little add ons than you could imagine and, most importantly, it allows you to quickly and easily share other people's posts to all your own social media accounts.
Or it did… enter stage left the business unfriendly Facebook
Yes, yes I GET it as users we don't want businesses to keep popping up on our timeline. As the owner of a marketing consultancy, however,   I am watching my clients on Facebook tear their hair out as they battle with a rapidly diminished reach since the algorithm changed in January this year.   Some larger organisations are publishing a drop of some 90% - yikes!
But how does this affect Buffer then?  Well here is the post they put out in mid July:
Why is it necessary to manually enter a message for Facebook when using the Browser Extension?
Buffer's Browser Extension automatically grabs the page title and the link, which you can use to customize your post for Twitter, LinkedIn, Google+, Pinterest and Instagram. So why doesn't it pull it in for Facebook? Great question!
Facebook rules stipulate that third party apps, such as Buffer, cannot auto-fill the text update for a post on behalf of users, which means users need to directly input what they'd like to share. We're so sorry about this limitation. We're keeping a close eye on Facebook's guidelines to see if this changes in the future.
How I love Facebook moving the goalposts (not!)
I'm sure you know how to schedule your own posts in Facebook but did you know you could do the same for third party posts? Like many things Facebook it's not instinctive so here's some screen shots:
First
Find the post you want to share and right click on the time that it was posted in the top left.  This will magically give you a drop down menu – select "copy link address"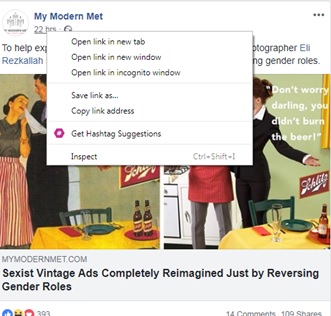 Second
Go to your Facebook Page and click on the "Write a post" box as usual. Paste the link and you will the post you want to share in the box.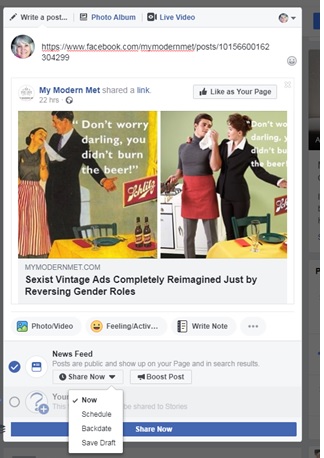 Third
Delete the link – don't panic the post will still stay there -  and write your post in the usual way.  Click on the share now button and a drop down menu will appear – select "Schedule"
Finally
Select the time you want to share it and click on the blue button which says schedule.  When you do that the "Share now" button will change from "Share now"  to "Schedule Post"  It's important to click on that button too. 
So Schedule, Schedule post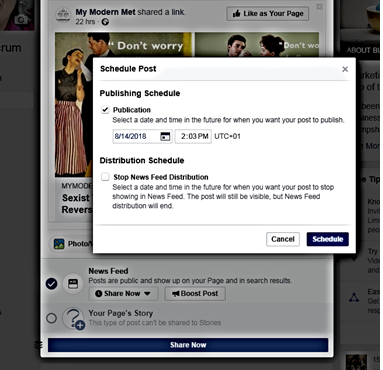 Hope you found that helpful.  Keep your chin up! ( *)>