No 1 - Pinterest for Business: Coaches, Mentors and Trainers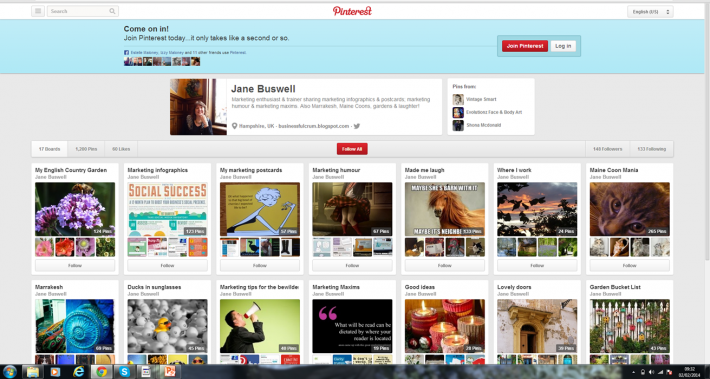 2015-05-126

on

Wed 6

May
Many are using Pinterest for business but have you used it  for your coaching or training business yet? You may have previously thought that this would not be helpful at all -  but if I mentioned that you could create Vision Boards there would you be more interested in it? (over 6,200 people have been so far)
It's fair to say that many business owners are not clear in their mind about how to use Pinterest - indeed it is taking some time to be adopted in the UK.  So I thought I'd give you some practical examples about using it if you are a Trainer, Mentor or Coach,
Firstly ALL social media is one of the best platforms for
the distillation and sharing of your (considerable amount of) content
keeping up your own CPD (Continual Professional Development)
identifying and collaborating with complementary experts
providing the opportunity to bring some personality to your business.
In terms of distilling and sharing on Pinterest why not pin those inspirational quotes you love to share with your clients or trainees?  Click on the phrase Marketing Maxims to see my Board of quotations
To create an image for this visual medium make use of any one of several free online resources that will help you do this - for example:
Ribbet.com
Picmonkey.com and
Pinstamatic.com
Or the brilliant Canva.com
Another use of Pinterest for trainers is with regard to the sharing and searching for key workshop activities - for example Icebreakers.  This is a great way for you to gain new ideas and keep things fresh.
Do you have reading matter that you recommend around your key subject? Why not share images of books that you have loved? This not only demonstrates your expertise in the field – it also helps your followers. You might even earn some revenue by connecting those book pins to your re-seller web page if you have one!
How about sharing images which illustrate the key objectives of your new programmes or workshops in order to get attendees excited about signing up?
How about sharing images from any your training videos to encourage traffic to your website?
Think about using Group Boards – these are boards that allow several people to collaboratively pin – this might be your peers or your clients.  All you have to do is give them permission- what a brilliant way to keep in touch!
If you would rather this board was closed or "secret" it's perfectly possible to do this. Have I given you some ideas?  I'd love to hear how you use Pinterest for business...