No 6. An expert Marketing Strategy with great lessons for you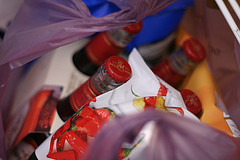 2015-07-196

on

Wed 15

Jul
Coming up with a successful marketing strategy can be pretty tricky.  But there's some great lessons you can learn from the big boys and apply to your own business.  This week it's about Ocado's insight into how we behave - a post which has already attracted some 1700 visits...
As you can probably imagine I'm the most cynical person when on the receiving end of a company's marketing strategy.  But sometimes it's definitely hats off time – and on this occasion to Ocado.
Don't things always go wrong with immaculate timing? So I was not surprised when our washing machine decided to dump vast quantities of water all over the floor the week before a significant family celebration
The plumber who came out told us it was a terminal case and advised buying a Bosch so we took to online searching and without much ado settled on a Bosch machine that came with Ocado shopping vouchers to the tune of £100
And here's the first valuable lesson about understanding your target market. If someone's buying a decent model of washing machine might they not also be receptive to overtures from "a high end" supermarket?
Of course, to get the vouchers I had to register with Ocado as advised and got an automatic thank you with a link which gave me:
A warm fuzzy feeling
The ability to easily take advantage
Only being a busy person and with the aforesaid big birthday coming up I didn't immediately get round to placing an order.
Two days later I not only got an e-mail but a letter from Ocado basically checking that I wasn't feeling a bit daunted about shopping online or had decided that it was  bit time consuming for the first order so had put it off. They empathetically indicated that their simple system would be quick and easy
So here's the second valuable lesson about understanding your target market.  Even if there's a great offer attached to a cut-off date - and it would of course be sensible to get a wriggle on to take advantage – we don't.  And this is normally for one of the reasons that Ocado had  identified and addressed in conversational language and via two methods of communication.
The big weekend was now upon me and I placed no orders so a few days later I got an e-mailed Ocado voucher for an extra £5 by way of an extra  incentive.  Of course that worked, I now had time in my busy social diary (!) and another fiver to spend so I went to place an order and realised at that point that  Ocado had been even smarter that I'd thought.  You see the £100 related to three separate shops over the next three weeks and was attached to a minimum spend:
Well honestly what had I to lose, and of course  they'd been so friendly and empathetic…
And here's the third valuable marketing lesson about understanding your target market.  If you encourage them to use you as a habit they are much more likely to stick with you
Of course this had to be backed up with an easy and attractive internet experience which included SMS messages about anything they couldn't supply and when my shopping would be delivered.
And it also had to be backed up with an understanding as to what their target market might really appreciate within a busy lifestyle. Colour coded bags for logical unpacking anyone?  Yes please!
Here's your 4rd marketing lesson – great marketing has to be backed up with great customer service or it will all be for nothing.
Regular e-mails followed, clever ones with good subject headings that addressed my likely concerns "We're cheaper than other supermarkets – how do we do it?" with the promise of a voucher if that was proved to be untrue
And there's your 5thand final marketing lesson – recognise your target market's likely objections and nip them in the bud.
So all in all a great shopping experience and a smashing marketing experience too. I hope that's given you some good strategic marketing ideas of your own!